CAM HELP

FOR VET NURSES & NURSE CLINICS
CAM believes in the multimodal approach to managing arthritis and that needs a multidisciplinary team in which veterinary nurses play a massively important role. In fact we go as far as saying "vet nurses rock"!
You, as veterinary nurses are highly qualified, dedicated, empathetic and committed individuals who put their heart and soul into your work, and we want to help you achieve your ambitions with ease and a smile on your face!
Please find below information about our CAMEssentials 60 Day Free Trial, our CAMAdvocate course, and more tools and products to help you in your arthritis clinics.
Owner education is the cornerstone of gold standard canine arthritis management, not only because a well-informed owner is more likely to be compliant with a management plan, but also because there is so much an empowered owner can do to manage and influence the disease process at home. CAM is committed to providing unbiased education resources for both owners and canine professionals, and through the CAM Education Initiative, we are aiming to revolutionise owner education in veterinary practices worldwide.
CAM ESSENTIALS

60 DAY FREE TRIAL FOR YOUR CLIENTS
How does the initiative work? Any practice who participates will be given a 60-day, no-strings-attached FREE trial of utilising CAM's short modular owner course, CAMessentials, in their consults:
A bespoke coupon code will be created for your practice to discount the course (normally retailing at £20) 100% to £0.
Your practice will be allocated 100 coupons free of charge for use during the 60-day trial period.
Your practice will be provided with a PDF flyer/voucher with a bespoke QR code that will take your clients directly to the course where they can enrol for free using the coupon code.
Once your client enrols, they will have access for an unlimited time.
It's that simple! If your practice would like to participate in the CAM Education Initiative, please submit your clinic's details via the form provided, and a member of the CAM team will be in touch shortly.
"*" indicates required fields
CAMADVOCATE

online course
CAM is proud to present their first online modular course for veterinary nurses to improve their understanding of canine arthritis, and to define their role in identification, diagnosis, and management of this neglected condition.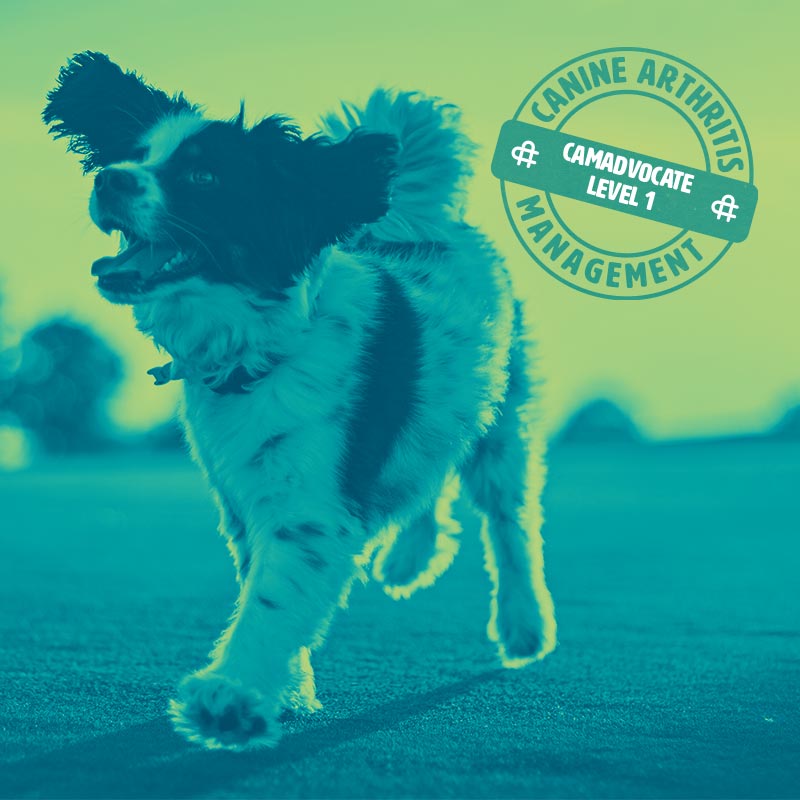 Course objectives for candidates are:
To build an increased awareness and deeper understanding of canine osteoarthritis
Be able to improve their identification of dogs with osteoarthritis
Understand the canine professional's role in supporting an owner and their dog from suspicion to a long-term management plan
Participants are taught through case-based learning.
The course enables quick incorporation of evidence-based principles into the participant's service provision with relevant downloads and owner focused resources.
On completion of the course participants will be able to use the title CAMadvocate, and resources are available on course completion to advertise their superior understanding.
Earn Continuing Education Units/Credits While You Learn!