How CAM can help

VETS & VETERINARY PRACTICES
We are passionate about the recognition and understanding of chronic pain in companion animals. We believe that pain needs to be managed quickly and effectively to optimise the welfare of our pets. CAM offers a variety of services to veterinary practices to help with their arthritis management and clinics.
From veterinary practice packages, which can be delivered online live to your practice anywhere in the world, to online modular courses aimed at canine professionals and lots of helpful promotional literature available for your practice from our online shop, please contact us for more help or advice.
CAM

VETERINARY PRACTICE PACKAGES
CAM offers interactive lectures for the whole practice team, with the intention of empowering all staff to be involved with setting up an "OA A-Team".
Six key objectives are:
Improving identification of pain within the veterinary team.
Creating competent, confident and empowering arthritis advisers within your team.
Maximising uptake of your practice service and product portfolio.
Improving your client's ability to identify signs of chronic pain in their dogs.
Improving your client's understanding of the disease and their role in managing it.
Ensuring your clients remain happy patrons of your practice through well-orchestrated management plans that reduce pain and slow the progression of the disease.
Patient education and empowerment is integral in successful management of chronic disease in humans. CAM have been leaders in client education for years and want to share their skills and experience with your team.
It's JUST Arthritis!

Or is it?
Looking at OA from a whole new perspective.
The CAM OA A-Team

COMPLETE TEAM ONLINE CPD PACKAGE
"Even super busy practices can have an OA A-Team" - An online learning package for the whole team to do in their own time, with optional engagement support and coaching calls.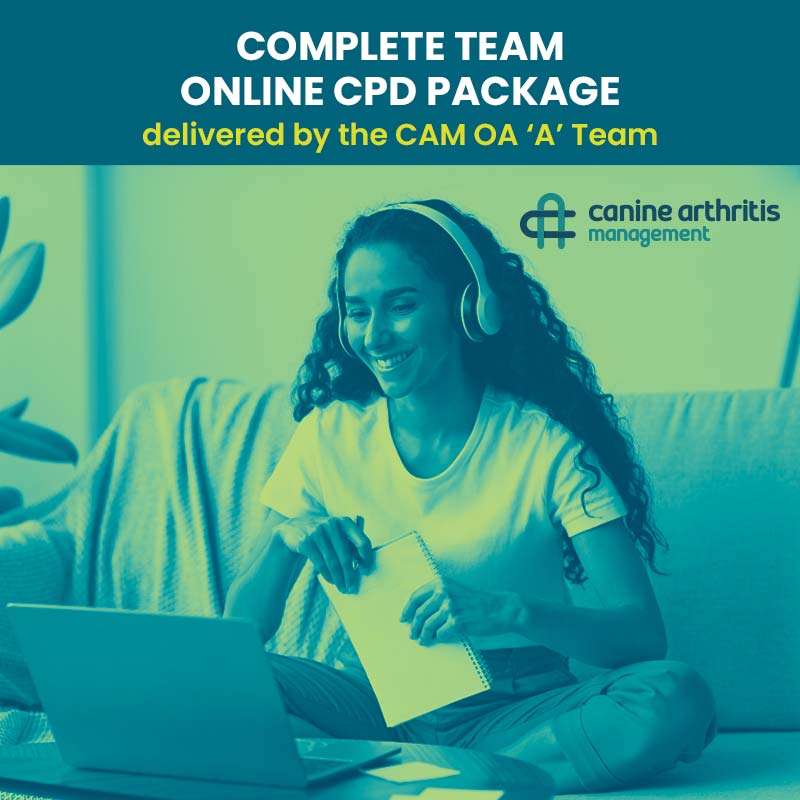 The OA A-Team Complete Team Online CPD Package is suitable for practices that need to remain open and functioning throughout the day. The schedule can be varied to suit the practice anywhere in the world. There are 4 modules aimed at reception and 10 each for vets and vet nurses.
The CAM OA A-Team

CPD TRAINING DAY
"We love it when a plan comes together!" - A full day targeting each skill set, vets, vet nurses and receptionists, and the whole team approach.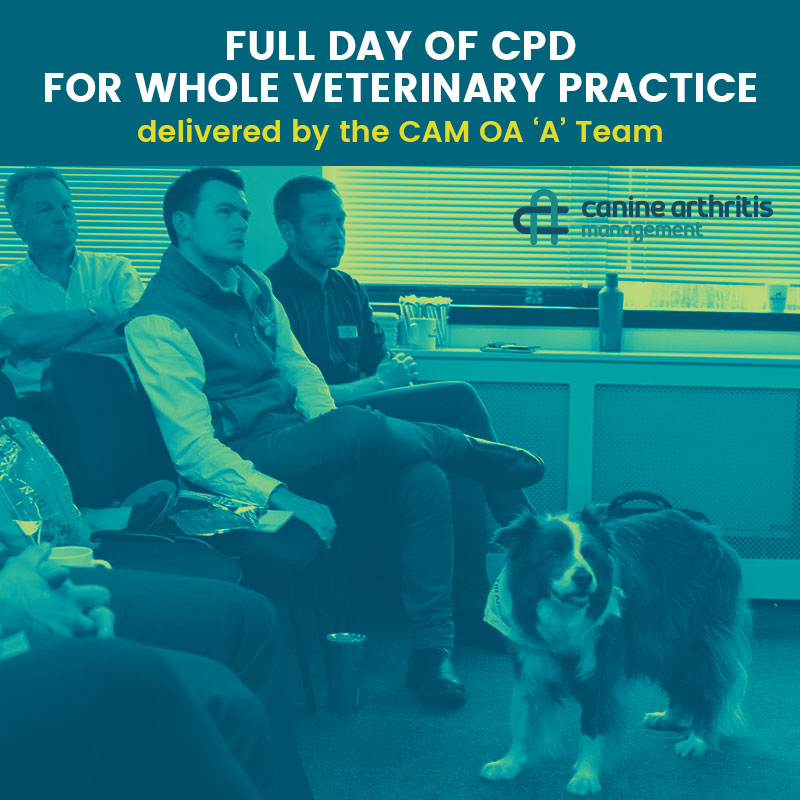 The OA A-Team package is suitable for larger practices, and those that wish to remain open and functioning throughout the day. The schedule can be varied to suit the practice.
The practice will have the option of using CAM client resources, designed to enable a practice to get an OA clinic up, running and successful immediately after the training.
A full day following the 5 x 5 x 5 staging, grading and scoring CAM communication tool.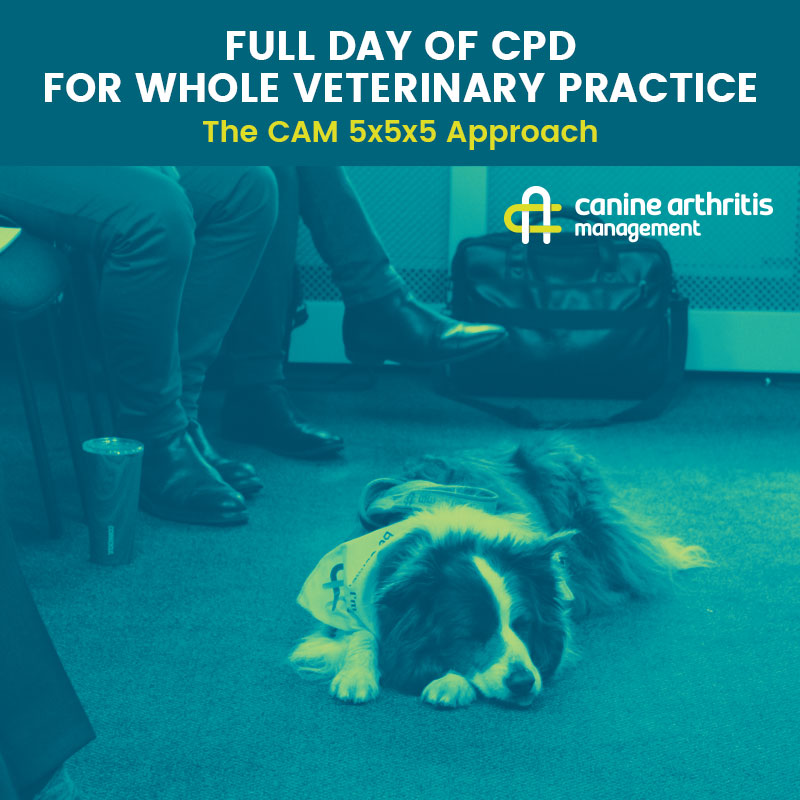 This thorough, empowering and lively training day tackles the difficulties of client communication alongside clinical protocols and interventions. Encouraging further investigations, creating multimodal treatment plans, managing owner expectations and maintaining compliance are challenging obstacles alongside disease management. This course takes it all head on!
CAM VETERINARY PRACTITIONER

ONLINE COURSE
This self-paced online course delivered by CAM is the most comprehensive overview of Canine Osteoarthritis available for veterinary professionals worldwide.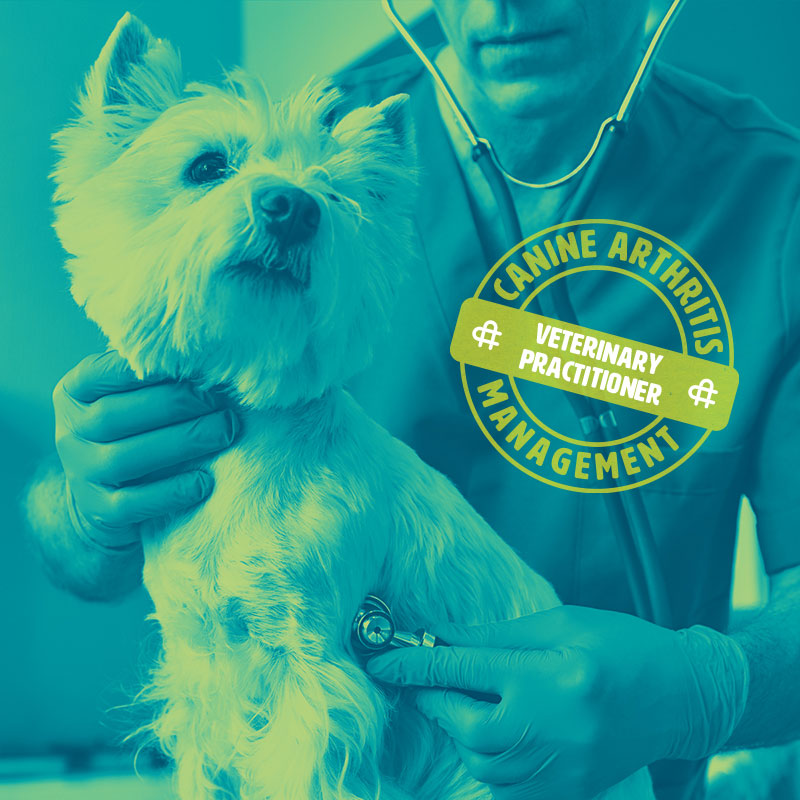 About the course:
15 case-based learning modules
10 hours of lectures
Race approved for 11.5 CEU
This fully online, self-paced course comprises 15 modules and provides the veterinary professional with case-based learning encompassing all aspects of canine arthritis management, from identification and diagnosis to multimodal management and end of life care.
Written by award-winning CAM founder and first opinion practice vet, Dr. Hannah Capon, MA Vet MB MRCVS, CCRP, the course aims to give the practitioner the knowledge, skills, and confidence to successfully manage canine and feline osteoarthritis cases, with a focus on an evidence-based, multimodal approach and successful owner communication.
Earn Continuing Education Units/Credits While You Learn!
CAMADVOCATE

online course
CAM is proud to present their first online modular course for the canine professional to improve their understanding of canine arthritis, and to define their role in identification, diagnosis, and management of this neglected condition.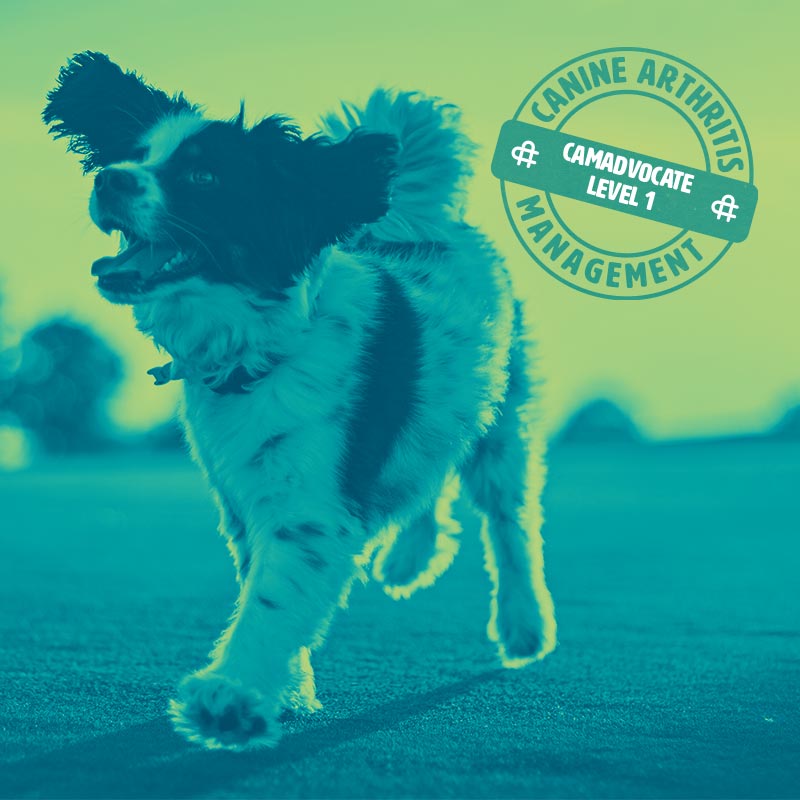 Course objectives for candidates are:
To build an increased awareness and deeper understanding of canine osteoarthritis
Be able to improve their identification of dogs with osteoarthritis
Understand the canine professional's role in supporting an owner and their dog from suspicion to a long-term management plan
Participants are taught through case-based learning.
The course enables quick incorporation of evidence-based principles into the participant's service provision with relevant downloads and owner focused resources.
On completion of the course participants will be able to use the title CAMadvocate, and resources are available on course completion to advertise their superior understanding.
Earn Continuing Education Units/Credits While You Learn!