CAM's The Big Walk is all about celebrating the arthritic dog by engaging owners in a fun and informative way and sharing the message #YourDogMoreYears.
what's

all the excitEment about?
The Big Walk has ranged from individual challenges and playdates with friends to a 30-day virtual extravaganza all focused on strengthening the bond and understanding between the caregiver and arthritic dog.
As CAM is a self-funded initiative, The Big Walk is an essential fundraiser for the year; this enables CAM to keep this platform independent and current. Funds go towards creating new content, continuing the FREE Facebook Lives, running the social media platforms and continuing the development of the website.
Whilst getting a diagnosis of arthritis is heartbreaking, the love, determination and spirit of our arthritic dogs is truly worth celebrating and that is what CAM's The Big Walk is all about.
2022 BIG WALK NEWS COMING SOON!
2021

THE YEAR OF THE VIRTUAL EVENT
In 2021, dramatic societal changes due to Covid, and CAM's growing global audience, inspired a shift to online and a mammoth virtual event!
Yet again the CAM team, composed entirely of voluntary veterinary professionals and dog owners, demonstrated their innovative, light-hearted and empowering approach to owner awareness and education.
A 30-day series of emails plus a private Facebook group took owners on daily imaginary adventures exploring different environments, listening to soundbites from the experts, picking up tips from short, sharp educational infographics, and sharing their stories with their peers.
Throughout the 30 days CAM guided subscribers through what arthritis and chronic pain is, pain management approaches, lifestyle adjustments that can impact the condition, weight management strategies, additional interventional therapies and other overlooked game-changing additions.
We can't wait to see you for The Big Walk in 2022!
2019

THE BIG WALK GREW FOLLOWERS
CAM Supporters meet up to share walks and experiences
With a huge growth in followers, CAM revived The Big Walk in 2019. This time it was not a duo with the world watching, but the world itself that got involved! During the month of September, 45 Big Walks were organised up and down the UK and further afield by our loyal CAM followers. With their favourite dog-friendly walk to share, organisers invited friends old and new to come together and spread the message #YourDogMoreYears. From urban gardens to universities and vet practices to country parks, memories were made and new sniffs were explored.
Alongside the walking events, Hannah shared 30 days of tips and tricks for managing canine arthritis through interactive videos on social media to help educate and empower dog owners and professionals alike.
The walks were hugely popular and successfully raised over £8000 in as little as 6 weeks.
Unfortunately, due to the pandemic, the 2020 Big Walk was cancelled – but fear not – we made it back in 2021 – virtually!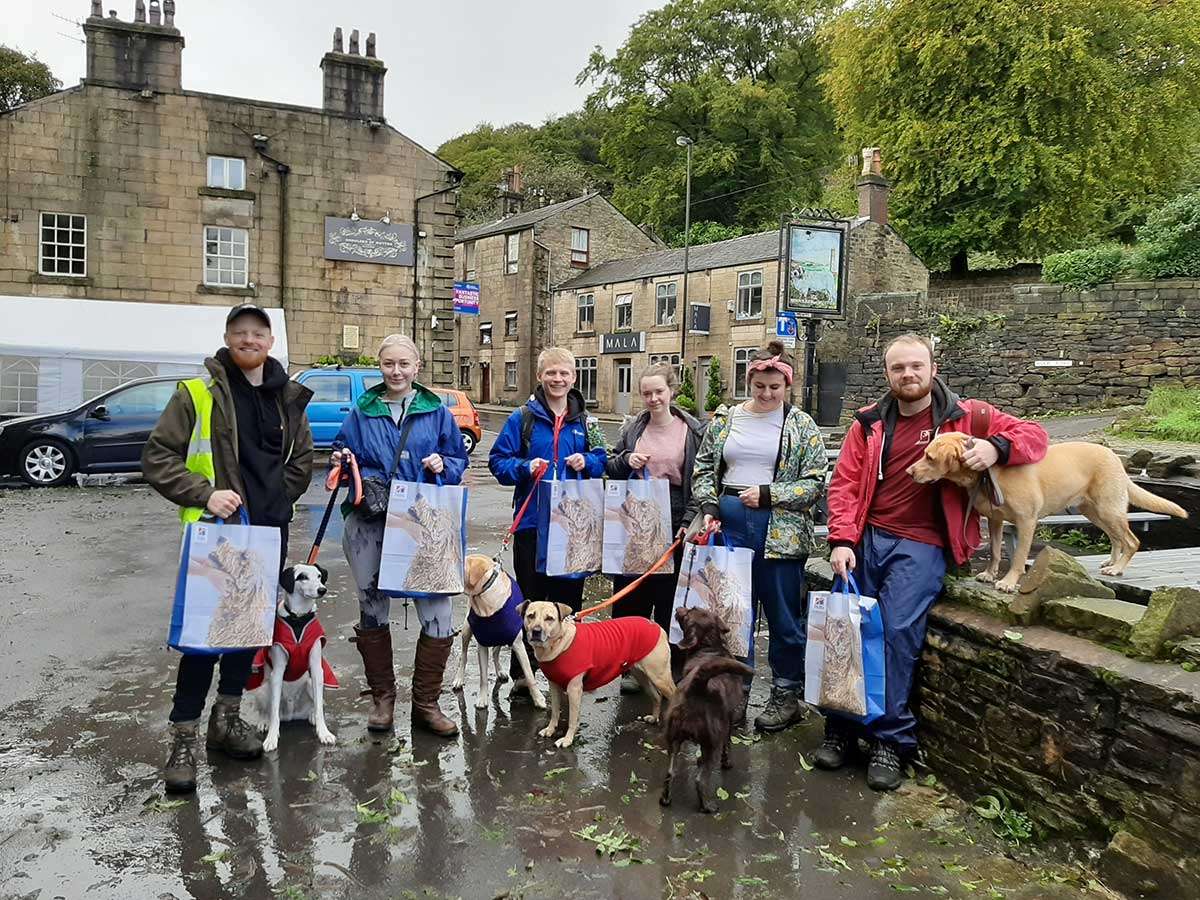 2017

The inaugural Big Walk
The walk that kick-started CAM!
The original Big Walk was a small affair in September 2017, when vet and CAM founder Hannah and her inspirational dog Holly took on a personal challenge to remember.
Holly was 15 years old and had developed an array of conditions common to dogs, and her adventurous life with Hannah had become seriously impacted. Not wanting to allow their special bond to suffer, Hannah set about planning a big adventure for both her and Holly to enjoy and at the same time raising much needed funds for CAM, which was still in its infancy!
They completed the hugely successful first Big Walk by taking on over 100 miles of the South Downs Way, to relive their journey, head over to @hollydogcam on Instagram.
With the help of a dog trolley, lots of provisions and help from friends and family, they roughed it for 8 gruelling days, enduring pouring rain, hard climbs up various  beacons and hills, and trudges along muddy, treacherous tracks. They even had to contend with a wheel falling off the dog buggy, but they raised a whopping £6500 to plough back into CAM to ensure that CAM could continue their great work.
Sadly, the planned walk in 2018 did not go ahead as Holly's health deteriorated and Hannah had to say the hardest goodbye at 6pm on the 10th of December 2018.