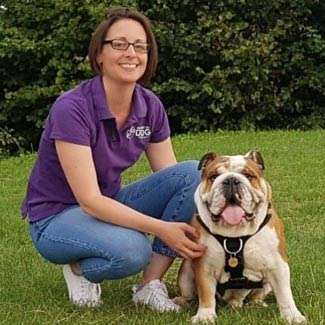 Canine Behaviour Practitioner & Canine Myofunction & Rehabilitation Therapist
ISCP Dip.Canine.Prac, OCN London Dip.CMRT
Gemma has lived a life with dogs of various breeds growing up in a house full of show dogs, but initially studied at Hartpury College for a career with horses going on to work at show jumping and event yards along with hydrotherapy centres. In the early 2000s she started growing an interest in how pain affects movement and behaviour after one of her own horses developed gastric ulcers, this then became an obsession when returning to her love of dogs, and attending dog classes could see dogs from an early age already experiencing difficulties.
Wanting to expand on her observational skills she trained under Sarah Fisher, before deepening her knowledge of canine anatomy, physiology & movement alongside massage and rehabilitation with ICAT and the OCN in London.
Gemma now combines her passion for canine behaviour and movement to help dog guardians get to the bottom of their dogs problematic behaviours using gait and posture analysis to shine a light on potential issues, she is often called in by other canine professionals to work with their clients for additional support and advice, and more recently now teaches other canine professionals to do what she does so that more help and support can be given to guardians and their dogs as possible.